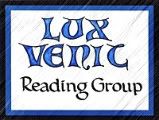 Several years ago at our church's Valentine's Banquet, my husband and I were chosen as contestants in The Newlywed Game. As part of the entertainment, you see. Because we are so entertaining, he and I.
Anyway, you know the drill: the husband and wife are asked questions separately about each other, such as the color of the other's toothbrush or their favorite tv show, their answers are compared and scores are awarded on the number of identical answers.
Well, in our particular game, my husband was asked about my biggest fault, what I do that drives him crazy. When it came time for me to guess what his answer would have been, I said something to the effect that of course I had no faults--what could possibly drive him crazy?
It was a joke.
Of course I have faults and of course I have failed him as a wife. Over and over again. I do in fact drive him crazy. Over and over again. This I know for sure as I know the wife that I am, that I am not and that I should be. Which is why I am both excited and just a little apprehensive about reading The Excellent Wife with Leslie and the other gals in the Lux Venit Reading Group.
In Chapter 1, Martha Peace describes the attributes of an excellent wife as found in Prov. 31:10-31,
Good to her husband, generous, wise, worker with hands, not afraid, praised, careful, blessed by her children, fears the Lord, kind, trusted, respectful to her husband, of exceptional worth.
Did I mention I was a little apprehensive? What a list! How far I fall short! Impossible, yes...apart from the Spirit of God....
...His divine power has granted to us everything pertaining to life and godliness, through the true knowledge of Him who called us by His Own glory and excellence. (2 Pet. 1:3)
As Martha says,
He has given [the Christian wife] the supernatural power of the indwelling Holy Spirit to enable her to obey His Word and submit to His way and His will.
Not by self discipline nor resolution, but by His might and His power! Want to join in as we seek to yield to the Spirit, asking Him to mold us into the excellent wives He has called each of us to be? It's not too late! Head over to Leslie's for information on ordering a copy of The Excellent Wife.
May God be glorified as we serve Him by serving our husbands with excellence!