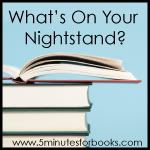 I recently finished reading:
Keeping the Feast: One Couple's Story of Love, Food, and Healing in Italy
by Paula Butturini
Finally Alive
by John Piper
Holy Subversion: Allegiance to Christ in an Age of Rivals
by Trevin Wax
I read/scanned portions of the following in preparation for teaching at my church's marriage retreat this weekend:
Radical Womanhood
by Carolyn McCulley
The Excellent Wife
by Martha Peace
Feminine Appeal
by Carolyn Mahaney
Womanly Dominion
by Mark Chanski
Lies Women Believe
by Nancy Leigh Demoss
For Bible study we are still reading:
Holiness: The Heart God Purifies
by Nancy Leigh Demoss
I just began reading:
The Lost Art of True Beauty: The Set-Apart Girl's Guide to Feminine Grace
by Leslie Ludy
I hope to read soon:
The Lumby Lines
by Gail Fraser
Dug Down Deep
by Joshua Harris
Evangelism and the Sovereignty of God
by JI Packer
The Three Musketeers
by Alexander Dumas
You can keep up with my reading progress under the (conveniently named) "Reading" tab under my header!
What are YOU reading this month? Let us know by linking up at
5 Minutes for Books
!