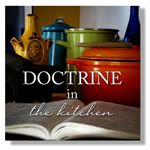 My friend
Becky
is hosting a month long series,
Doctrine in the Kitchen
. She has invited a group of women bloggers to share their thoughts on doctrine and how it influences their day-to-day lives, in the kitchen as it were. Doctrine is often perceived as dry and boring, belonging to realm of academia. Not so fast, my friends. Here are real women with real lives sharing a real love for doctrine. Reading of other women's love for God's Word and how it has transformed their hearts and lives has both encouraged and challenged me. Becky's passion is for women to know and study Scripture and she hopes this series will fan into flame a desire to press on to the deep things of the Lord! Please,
check it out
. I think you'll be encouraged as well! Plus, there's giveaways! Go, browse
Becky's site
(or the
Doctrine in the Kitchen facebook page
) and see how the living Word of God makes a difference in the lives of women.